Salsiccia Ubriaca (Drunken Sausage)
I make these sausages using pasture-raised Heritage Pork from small family-run farms in Ontario. The secret is the addition of high quality wine in a concentrated form. This results in a variety of sausages that enable you to experience the flavours of different types of wine.  The only ingredients used are: Heritage Pork, natural casings, kosher salt, pepper and concentrated wine.  The wine reduction is a unique process that I invented which allows me to maximize the amount of wine in each sausage.
As local meat becomes available, I make the most popular varieties in small batches, primarily for the enjoyment of Studio guests, friends and family.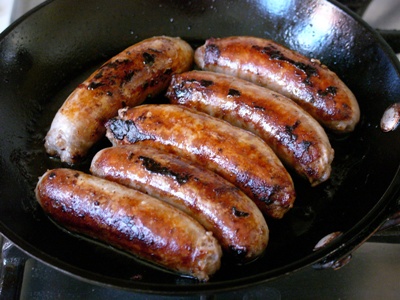 Wine-infused Sausages
Riesling Salsiccia
Riesling and pork is a classic match, so it makes perfect sense to marry the two in this sausage. The wine adds a subtle citrus note to the smoky/sweet pork, which is left in a fairly chunky state for added texture.
The original Salsiccia responsible for the "Ontario Sausage King" title!
Baco Noir Salsiccia
A coarse ground sausage, containing only wine, grape skin powder, salt and pepper.
County Breakfast Links  
Natural lamb casings, 100% pork butt, fresh herbs, Pluck tea, wine, proprietary spice blend.
Aperol
Twisted cocktail sausage infused with sparkling wine and Aperol.  Meant to pair with a glass of Prosecco!  When available I make also with my neighbour's Water buffalo meat and/or Welsh Mountain Black sheep meat.
Smoked Baco
The original Baco Noir Sausage but smoked (Applewood).
Cider-infused Sausages
County Cider Sausage
Finely ground  sausage infused with County Cider, spices and sweetened with dark maple syrup.
Chicken, Apple, Calvados
Containing local apples and cider, and Boulard Calvados Pays d'Auge
Beer-infused Sausages
The Tipsy Dog
This is my take on an artisan hot dog.

Smoked wiener style pork shoulder meat sausage infused with local beer. Not emulsified, no additives.
Beer Banger
English-style sausage with classic spices, infused with local beer.